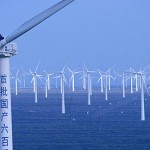 In recent years, China has taken some rather impressive strides in the development of their renewable energy systems. For a nation that has long been criticized for their extraordinarily high levels of industrial pollution, outdated power systems, and a reluctance to move forward, China's progress has been so incredible that many are beginning to question why the United States is falling so far behind. In the wind energy sector, China flipped the switch on the 102 megawatt commercial offshore wind farm located Shanghai called the Donghai Bridge Wind Farm just this year. Though that was the first commercial offshore wind farm, China already has plans to up the ante in the coming years.
The new offshore wind farm is to be developed as a part of China's continuing renewable energy program. Based in Bohai Bay, three hours from Beijing, the wind farm is slated to be completed sometime in 2020 and to boast an impressive energy output of 1,000 megawatts. Upon completion , the Bohai Bay Wind Farm will be the largest offshore wind farm in the world as it surpasses the 300 megawatt Thanet Wind Farm that was commissioned this year off the coast of the England.
The Bohai Bay wind energy project is being overseen by China National Offshore Oil Corporation, a state owned and operated oil company that has experience in developing offshore facilities. To jump start the production of the offshore wind farm, the Chinese government will be investing a substantial amount of money totaling around $2.2 billion dollars. Though an exact date for the beginning of construction is unknown, with an end point set for 2020 it is likely they will be getting to work as soon as possible.
Once completed, Bohai Bay will be adding to the ever growing quantity of wind energy in China. As of 2009, China was boasting an impressive 26 megawatts of wind energy and has substantially increased that number this year. Despite the addition of this new farm and the continuation of wind energy projects around the country, many critics of China's renewable energy policy claim that most of the energy generated is not actually sent to the grid and used efficiently. Considering how outdated some of China's energy grids are, this is not necessarily a surprising revelation, but one many hope will be rectified as China pushes forward.
In the end, Bohai Bay is a promising step for wind energy, particularly of the offshore variety, on a worldwide scale. So far, so few projects of that magnitude have actually reached a phase where they would be moving towards full scale construction. Another of the most ambitious wind energy plans can be found in the United Kingdom at Dogger Bank where a nine gigawatts offshore wind farm has been proposed. If all continues as planned on that project, construction would begin in 2014 and continue as the project was incorporated into an overall plan that hopes to eventually generate a total of thirty two gigawatts of wind energy.
Article by Richard Cooke, appearing courtesy Justmeans.